Hero: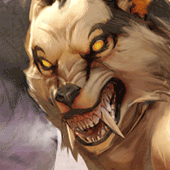 Fortress
| Slot: C|

120s/110s/100s|

120/140/160
Fortress summons a pack of wolves. Each pack wolf seeks out a different enemy hero.

It takes three separate attacks to kill a pack wolf.
Wolves apply bleeding with their basic attacks.
Wolves take normal damage from abilities and are granted 20% of Fortress' bonus defensive stats.
Fortress gains fortified health and attack speed when the wolves are summoned.
Wolves take damage equal to 75% of their max health from turrets.
DETAILS:
Duration: 10s/12s/14s
Bonus Attack Speed: 30%/45%/60%
Fortified Health: 300/425/550
Pet Damage: 20/40/60
Pet Health: 300/450/600