Hero: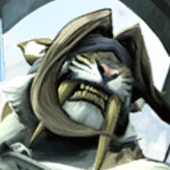 Glaive
| Slot: C|

16s/16s/16s|

20/25/30
Swings Glaive's axe in a 5.4-meter circle, dealing massive area damage that increases with the number of Bloodsong stacks used. This removes all stacks.

Passive: Glaive generates Bloodsong stacks from basic attacking or from receiving basic attacks (max 20 stacks).
Each stack grants Glaive bonus lifesteal.
DETAILS:
Damage: 100/200/300 (110% Crystal Ratio)
Damage / Stack: 15/20/25 (2% Crystal Ratio)
Lifesteal / Stack: 1.2%/1.2%/1.2%