Hero: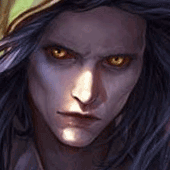 Samuel
| Slot: B|

26s/26s/26s/26s/26s|

120/160/200/240/280
Samuel creates a large field of darkness that slowly drifts forward, damaging enemies who stand inside it. If Samuel also stands inside, Malice & Verdict is greatly empowered and he heals for a small amount for each affected target.

The field will disappear if Samuel moves more than 16 meters away from it.
Deals 50% less damage to minions.
DETAILS:
Range: 14/18/22/26/30
Damage / Sec: 20/30/40/50/60 (10% Crystal Ratio)
Heal / Sec Per Target: 2/4/6/8/10 (10% Crystal Ratio)
Heal / Sec Per Minion: 1/2/3/4/5 (5% Crystal Ratio)