Hero: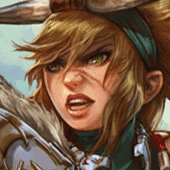 Rona
| Slot: B|

14/14/14/14/12s
A two-part axe attack that can catch up to - then brutalize - an unsuspecting target.

First activation: Rona lunges at her target, landing an empowered basic attack and granting her increased move speed and Bloodrage.
Second activation: Expend the bonus move speed and all of her Bloodrage to deal 1% bonus damage for each point consumed and apply Mortal Wounds to her target. She is then temporarily granted additional attack speed.
Each of Rona's basic attacks reduce Foesplitter's cooldown by 1s.
DETAILS:
First Hit Damage: 10/20/30/40/70 (100% Crystal Ratio) (90% Weapon Ratio)
Bloodrage Gain: 5/10/15/20/25
Second Hit Damage: 20/40/60/80/140 (200% Crystal Ratio) (180% Weapon Ratio)
Bonus Attack Speed: 15%/20%/25%/30%/40%
Duration: 4s/4s/4s/4s/4s