Hero: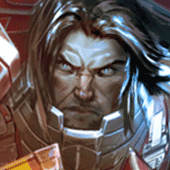 Ardan
| Slot: C|

120s/105s/90s
Ardan leaps to the target location and projects a perimeter around him. Enemy heroes who touch or cross the perimeter are stunned and take crystal damage.

If Ardan leaves the perimeter, it is immediately destroyed.
Ardan instantly gains full Vengeance upon using this ability.
DETAILS:
Damage: 400/500/600 (250% Crystal Ratio)
Stun Duration: 0.6s/0.9s/1.2s
Duration: 6s/6s/6s