Hero: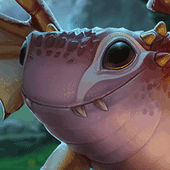 Skaarf
| Slot: B|

9/8.5/8/7.5/6|

40/50/60/70/80
Skaarf hurls a goop onto the target location. Enemies walking through the sticky substance are slowed. Any of Skaarf's flames will ignite the puddle, dealing burst damage and burning enemies over time.

A flaming puddle does not slow enemies as much as a goop puddle
Deals half damage to minions & Kraken.
DETAILS:
Ignite Damage: 60/105/150/195/240 (70% Crystal Ratio)
Damage/sec: 40/70/100/130/160 (50% Crystal Ratio)
Duration: 8/8/8/8/10
Duration on fire: 5/5/5/5/7