Hero: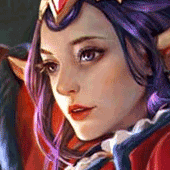 Lyra
| Slot: A|

14s/13s/12s/11s/10s|

80/100/120/140/160
Lyra creates a sigil that heals nearby allied heroes and damages nearby enemy heroes. Reactivate this ability to detonate the sigil, dealing heavy damage to enemies while providing a move speed boost to allies inside and immediately consuming the remaining duration to heal at 30% effectiveness.

The healing per second is increase by 15% of Lyra's bonus health.
The sigil depletes faster the more heroes it is healing/damaging.
The sigil has vision, so it can see enemies.
The Detonation deals 50% less damage to minions.
DETAILS:
Range: 10/10/10/10/12
Damage / Sec: 65/110/155/200/290 (50% Crystal Ratio)
Heal / Sec: 25/35/45/55/75
Burst Damage: 80/130/180/230/330 (60% Crystal Ratio)