Hero: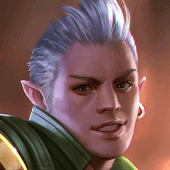 Tony
| Slot: A|

12s/12s/12s/12s/12s|

40/45/50/55/60
Tony's next three basic attacks are empowered for 4s. These attacks launch Tony toward his target, dealing bonus damage. The third attack is a two-handed strike that will stun his target.

Tony also gains a decaying move speed bonus when activating this ability.
DETAILS:
Weapon Damage: 10/20/30/40/50 (70% Weapon Ratio)
Bonus Move Speed: 2/2.25/2.5/2.75/3.0
Duration: 0.8s/0.8s/0.8s/0.8s/1.2s