Hero: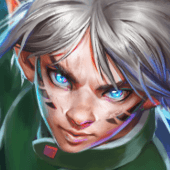 Karas
| Slot: Heroic Perk
Karas' mythical blade is infused with the power of wind, dealing crystal damage. Whenever Karas uses an ability, he gains 0.4 bonus movement speed for 5s.

Damage: 70-136 (level 1-12) (+60% crystal power) (+100% weapon power).
Bonus movement speed stacks up to 3 times.