Hero: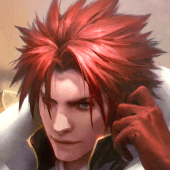 Caine
| Slot: Heroic Perk
Caine's revolver carries up to six Bullets which he uses for basic attacks and abilities.

Caine automatically reloads if he does not attack for 2s.
Caine gains a small move speed boost while out of Bullets.
Caine's basic attacks deal 110% weapon power damage.