Hero: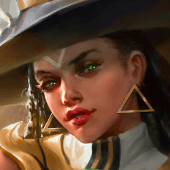 Viola
| Slot: C|

22s/18s/14s|

40/50/60
Viola plays a song that grants various effects to allies and enemies that are first tagged by the aura.
The effects of the song and who it applies to is based on the combination of Musical Notes that she currently possesses. This ability can only be activated if she has 3 Musical Notes present.

A A A - Fleeting Song
Casts an aura that cleanses movement impairing effects and grants movement speed to tagged allies for 3s. This can be cast while under Crowd Control effects such as stuns and silences.

A A B - Tempo
Casts an aura that increases attack speed and cooldown reduction to tagged allies for 5s.

A B B - Dissonance
Casts an aura that deals damage over time and applies mortal wounds to tagged enemies.

B B B - Lullaby
Casts an aura that makes tagged enemies Drowsy and inflicts a ramping slow. After 3s, the enemies will be put to sleep and unable to move or act until they take damage or after it wears off. Enemies affected by Lullaby cannot be affected again for 45s.
DETAILS:
Bonus Damage: 150/250/350 (70% Crystal Ratio)
Damage / Sec: 30/60/90 (15% Crystal Ratio)
Bonus Move Speed: 1/1.5/2 (0.7% Crystal Ratio)
Bonus Attack Speed: 15%/30%/45% (10% Crystal Ratio)
Cooldown Reduction: 10%/15%/20% (10% Crystal Ratio)
Sleep Duration: 3s/3s/3s