Hero: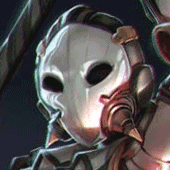 Alpha
| Slot: A|

11/10/9/8/7s|

0/0/0/0/0
Alpha scans for enemies in front of her. If she scans an enemy hero, structure or jungle creature, Alpha dashes behind them and slashes all enemies within 4.5 meters.

Deals bonus damage for each stack of Core Overload on Alpha.
Removes all negative effects of Core Overload.
Applies a brief slow to the scanned target.
Deals 50% less damage to minions.
DETAILS:
Damage:80/100/120/140/160 (180% Crystal Ratio) (60% Weapon Ratio)
Damage/stack: 40/60/80/100/120 (30% Crystal Ratio) (40% Weapon Ratio)
Range: 10/10/10/10/12
Slow: 40%/50%/60%/70%/80%
Slow Duration: 1.5/1.5/1.5/1.5/1.5s