Hero: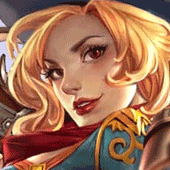 Gwen
| Slot: B|

19s/17s/15s/13s/10s|

60/65/70/75/80
Gwen gains a burst of move speed while instantly removing from herself any negative movement-impairing effects.

Blocks further effects for 0.5s.
Passive: Gwen gains 0.6 bonus move speed for the entire match. This effect is temporarily disabled for 5s upon taking damage from an enemy hero.
DETAILS:
Bonus Move Speed: 2.5/2.8/3.1/3.4/4
Bonus Move Speed Duration: 2.2s/2.2s/2.2s/2.2s/2.2s