Hero: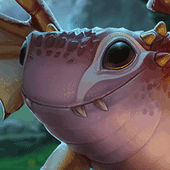 Skaarf
| Slot: A|

5/4.5/4/3.5/3.0|

25/30/35/40/45
Skaarf spits a fireball that collides with the first hero, structure or boss monster it hits.

The fireball damages & passes through smaller minions.
Each time it passes through a unit, its damate is reduced to 85% of before.
Deals 50% less damage damage to minions.
DETAILS:
Damage: 75/135/195/255/315 (130% Crystal Ratio)
Fireball Speed: 9/9.5/10/10.5/11