Hero: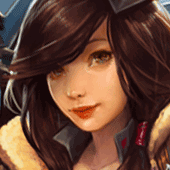 Skye
| Slot: B|

16s/14s/12s/10s/6s|

70/70/70/70/70
Skye dashes to a chosen location around her locked target while firing a volley of missiles along a line between her and her target.
Multiple missiles can hit the same target, but subsequent hits deal 20% damage.
This ability can only be activated when Skye has a locked target.
Activating this ability resets a portion of the cooldown on Forward Barrage.

Passive: Each ability point in Suri Strike increases the duration of Target Lock.
Deals reduced damage to minions.
DETAILS:
Damage: 90/150/210/270/330 (100% Crystal Ratio)
Bonus Duration: 1s/1.5s/2s/2.5s/4s
Cooldown Reduction: 40%/55%/70%/85%/100%