Hero: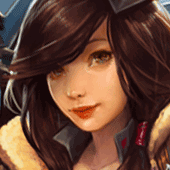 Skye
| Slot: Heroic Perk
Skye's basic attacks apply Target Lock to the last target.

Basic attacks and Forward Barrage on that locked target grant her up to +2 move speed for 1.2s, but this boost is much weaker while moving backward.
Target Lock lasts 3s and is lost when the target is more than 8.5 meters away.