Hero: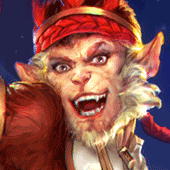 Ozo
| Slot: A|

8s/7.5s/7s/6.5s/5s|

50/55/60/65/75
Ozo can use this ability three times in a 5s window:
First hit: Smashes the target and other enemies in front of him.
Second hit: Dashes through his target and deals damage.
Final hit: Spins and damages all nearby enemies.
Each hit deals weapon damage, can crit, and triggers basic-attack effects on the primary targer.
Ozo heals for each enemy damaged by any of these hits (30% against non-heroes).
DETAILS:
First Hit Damage: 25/35/45/55/65 (75% Crystal Ratio) (100% Weapon Ratio)
Second Hit Damage: 25/35/45/55/65 (75% Crystal Ratio) (100% Weapon Ratio)
Third Hit Damage: 25/35/45/55/65 (75% Crystal Ratio) (100% Weapon Ratio)
Healing vs. Heroes: 20/40/60/80/100 (15% Crystal Ratio)