VG Hero: Skye
Lore
---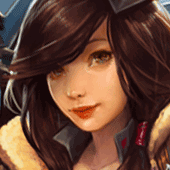 Skye's Promise
"You aren't supposed to be here today." The general's long shadow stretched into the hangar from the rolled-up garage door.

Skye peeked out from the cockpit of a mech with half its front armor blown out, metal blackened and curling in from the impact point. With a screwdriver between her teeth, she tossed a charred actuator onto the ground and called out, "I'm glad you're here, Appa. I want to show you my plans for the decommissioned exosuits."

"You promised your mother."
Full story here!
The Choosing
"I hope you are chosen by a good house, Skye," she said. "It would disrupt the tedium of these things if a house mother cooked up a surprise." It was well known that a daughter of Tiger House was a wise diplomatic choice for Baron Silver. Tiger House had been at all-out war with Silver House that year; destroying much of the Silvers' cavalry of mechs ...
Full story here!
For Baron
Skye dissolved backward into the crowd, then sprinted out the door and down the hill alone, into the deep night, yanking the rings from her hair. She ran to run, something primal within her chest demanding escape.
Full story here!
VG Wikibase Navigation