VG Hero: Vox
Lore
---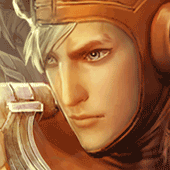 Escape to the Fold, Part I
We race down this old creaking dock toward the RAAAAAHHHHHRRR of these male titanbacks that pull the barges. While the soldiers yank on the ropes to float a beast close enough for us to board, the Stormguard march closer, singing a creepy war song. An arrow goes SHTOOMP into the spine of the guy next to me. What's left of the first line of Gythian defense stabs at the shields like zzzppttt-zzppptt, and Celeste holds my elbow and leans in. "Do the thing," she says. Then she smiles at me like everything isn't chaos, like it's just us on top of the world again.
Full story here!
Escape to the Fold, Part II
"If there is a way to end her tyranny, shouldn't I do it?" Celeste says in that calm way that always winds Dad up even worse. "Your mother thought she could supplant the Storm Queen with technologist help, and look what happened to her."
Full story here!
VG Wikibase Navigation